Acapulco (officially known as Acapulco de Juárez) is a city, municipality and major sea port in the state of Guerrero on the Pacific coast of Mexico, 300 kilometres (190 miles) southwest from Mexico City. Acapulco is located on a deep, semi-circular bay and has been a port since the early colonial period of Mexico's history. It is a port of call for shipping and cruising lines running between Panama and San Francisco, California, United States. The city of Acapulco is the largest in the state, far larger than the state capital Chilpancingo and as well, Mexico's largest beach and Latin American seaside resorted city. (From Wikipedia) The color is mentioned of the sea near the beach of Acapulco. It is from chir.ag and a tint of blue and green.
Acapulco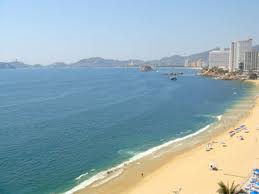 From Color Wiki, aerial photo of Acapulco.
Hex code
#7CB0A1
Pronunciation
/ækəˈpʊlkəʊ/
Ad blocker interference detected!
Wikia is a free-to-use site that makes money from advertising. We have a modified experience for viewers using ad blockers

Wikia is not accessible if you've made further modifications. Remove the custom ad blocker rule(s) and the page will load as expected.